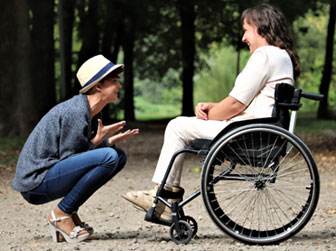 Am I a carer?
All of us will care for someone in our lifetime. Recognising when you are a carer is the first step towards finding help and support at the right time.
133,000 people are carers in Hampshire. Most do not recognise the help they give to their mum, dad, husband, wife, partner, child, grandparents, friend or neighbour. However, without that help the person they support could not cope or live independently.
Caring for someone can happen suddenly through illness, stress or accident. Caring for someone can happen progressively with age or disability. However you come to a caring role, it may be time to ask for help.
Can I get help?
Organisations such as ourselves provide free help to unpaid carers. Getting the right advice information and support when you need it will help you manage the impact of caring on your life.
Unpaid carers who provide regular and substantial care have a legal right to a free carers assessment. This is provided by your adult social care team in the local authority.
The assessment may be completed at the same time as the needs of the person you care for are assessed. However, you are entitled to an assessment in your own right regardless of whether or not the person you care for has had one or wants one. There is no charge for this assessment.
Carers assessments are a good opportunity for you to talk to someone about your caring role as well as your own needs. This should include the impact of your caring on your own life and health and the impact of caring on your work and family.
Ask to be put on your GP's Register. Most carers will find caring stressful physically, mentally and emotionally. It is important to tell your GP and practice nurse that that you are a carer. You may not be registered at the same practice as the person you care for and your health practitioners may be unaware that you are a carer. Your GP will record that information and should the offer you support and signposting to other services. Carers will be invited to flu checks annually and should be invited to have regular health checks. You may also find it helpful to inform receptionists that you are a carer when booking appointments.